| | | |
| --- | --- | --- |
| They came from outer space--and you can have one! Genuine meteorites are now on sale in the Space Weather Store. | | |
SHUTTLE LAUNCH UPDATE:
Engineers are still working to repair a problem that delayed space shuttle Endeavour's scheduled launch on April 29th. Heaters on a fuel line for the shuttle's auxiliary power unit failed during the countdown, and it might take as much as a week to get them back online.
NASA
says the next launch attempt will occur
no earlier than May 8th
. Stay tuned for updates.
SOUTH POLE AURORAS: A solar wind stream that hit Earth's magnetic field during the weekend sparked auroras over both ends of the planet. "After a slow start to the aurora observing season, we are finally getting some beautiful Aurora Australis here at the geographic South Pole (90 degrees S. latitude)," reports J. Dana Hrubes, science leader at the Amundsen-Scott Station. He took this picture at the peak of the geomagnetic storm on May 1st: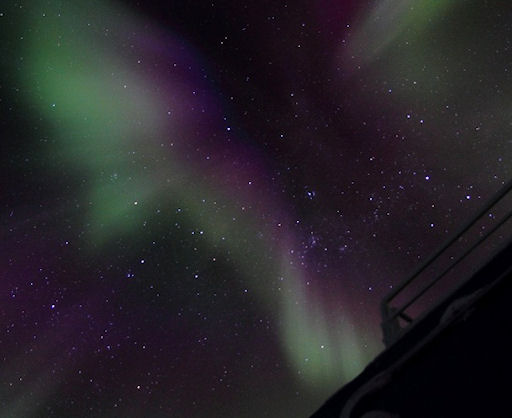 "Red and green auroras were directly overhead and appeared to be 'raining' down on us," says Hrubes. "It was much too cold for rain, however; the air temperature outside was -85 F. The sun set on March 23rd and will not rise again until six months later, so we will surely see more of these lights in the dark nights ahead."
Indeed, the solar wind continues to blow at high speed, and NOAA forecasters estimate a 50% chance of more geomagnetic activity during the next 24 hours. High latitude sky watchers should remain alert for colorful 'rain.'